BH Petremma's Rolls Jr in Shows :
23.5.2009
FINNISH DOBERMANN CLUB SPECIAL SHOW
(Merete Dalgaard, Denmark)
FAILED

(P1 MISSING, DROPPED DURING LAST WEEK)
16.5.2009
Hamina
(Denis Kuzelj)
OPEN EX1, BEST MALE 2, RES-CAC
"Excellent type & size, with nice head,
compact sillos bite. Short body with deep shest,
excellent in movement, nice temperament
strong angulations."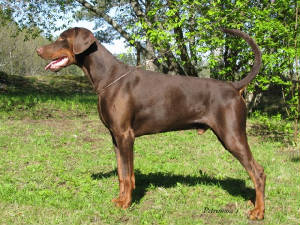 18.1.2009
Lahti CAC-Show
judge: Marja-Leena Kurvinen, Finland
OPEN EX2, BEST MALE 3, res-CAC
"3 V. Keskikokoinen, neliömäinen, eritt. hyvä tyyppi, oikeanpituinen pää, lähes yhdensuunt. linjoin, alaleuka voisi olla voimakkaampi, erinom. silmien väri ruskealle koiralle, karvattomat luomet häiritsevät ilmettä, pitkä kuiva kaula, kaunis ylälinja, erinom. hännänkiinn. ja vahva sapelihäntä, tasapuol. kulm. takaraajat, hyvä rinnan syvyys ja leveys, eturintaa saisi olla enemmän, tan-merkit edessä niukat ja huonosti rajautuneet, avoin luonne, ryhdikäs esiintyminen, vähän epätasainen ruskea väritys."
Heinola 17.8.2008 (Brankovic Anna)
Open SG 3
5.7.2008
Mikkeli CAC -Show
(Jari Laakso)
Open class
Ex 2, Best Male 2. Res-CAC
Hamina 24.5.2008
(Beata Petkevica)
OPEN SG1

Lahti 20.1.2008
( Marianne Holm)

OPEN V2, 2.BEST MALE, RES-CAC

Hamina 12.5.2007

(Blaz Kavcic)

Best Male, BOS & CAC
P's Rolls Jr 12.5.2007 after Hamina CAC- Show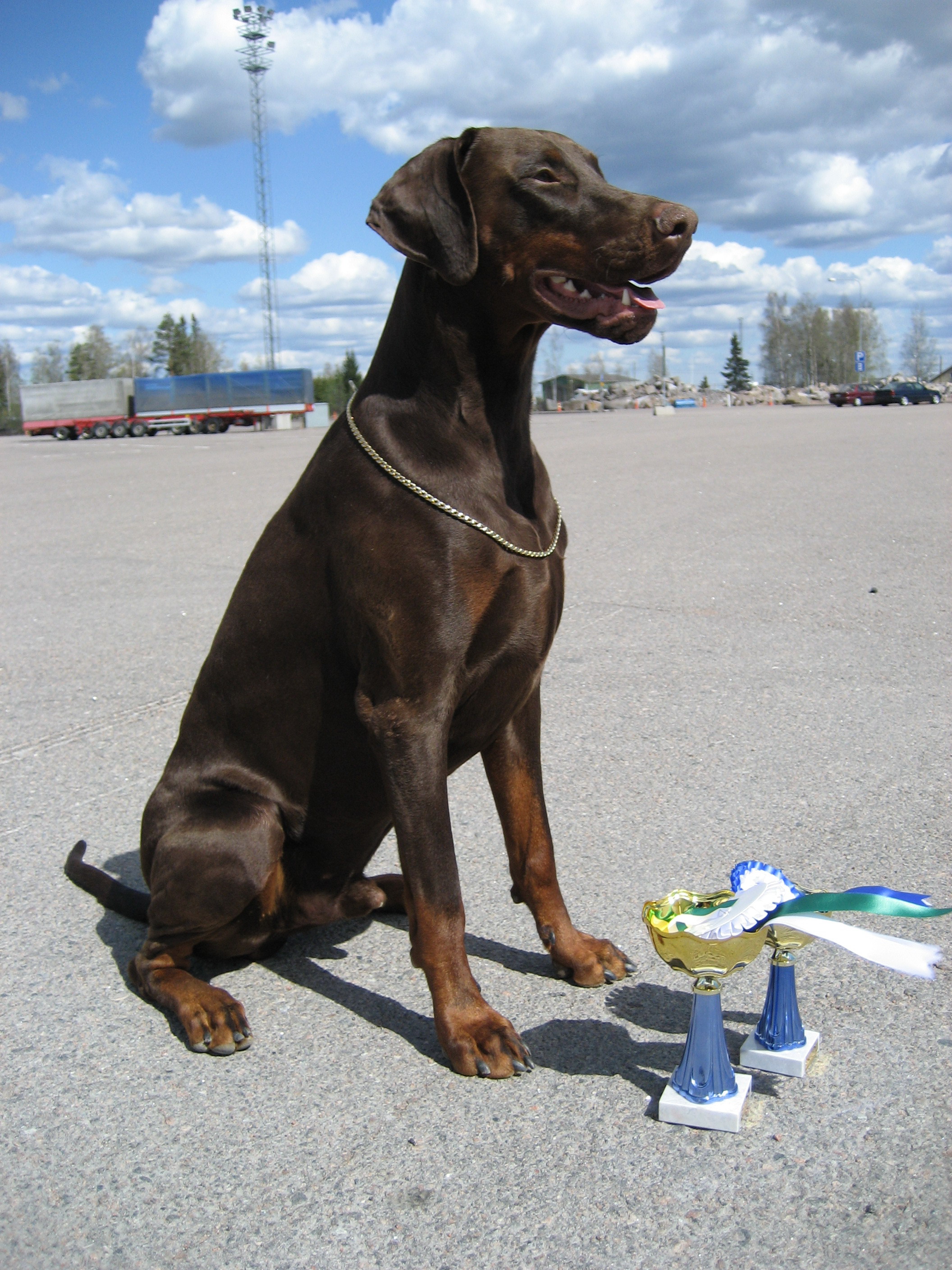 Lahti 28.4.2007
(Rainer Vuorinen)
Open G
Tampere 24.3.-07 (Lynn C Rock)
Open SG 4
"Head good.Good earset.Good eyes &colour.
Level plains.Like little more strenght in foreface.
Shoulder angulations is good. Good forechest.
Strong pasterns. Feet ok. Dept to elbow. Good topline.
Short coupled & short back. Rear angulations ok.
Needs little more drive coming & going."
Lahti 14.1.-07
(Paula Rekiranta)
Youth EX2, 3. Best male
Hämeenlinna 26.8.2006
(Fors Roland)
Youth VG1
Mäntsälä 23.6.-06
(Bojan Matakovic)
JUN EX1, 2. Best male , Res-CAC
Finnish DV Speciality Show 2006
(GSCHWINDL MARTIN)
JUN EX 3
Lahti Kv 22.4.-06
(R. Tuovinen, FIN)
JUN EX 3, Best male 4
Lahti 15.1.-06
(Anneli Karttunen, FIN)
JUN Ex 1, Best male 3
Lahti Puppy-show 23.10.-05
BOB-puppy, with honor prize
Lahti 22.4.2006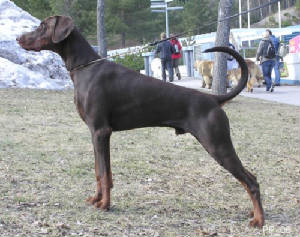 Rudi 1 year and 2 months old